Discomfort and pain in the knee can significantly impair your mobility and impact your quality of life. Routine activities such as climbing stairs, taking a shower, or even sitting on the couch can become excruciating ordeals. Knee replacement surgery, also known as knee arthroplasty, is a procedure designed to mitigate chronic and severe knee pain.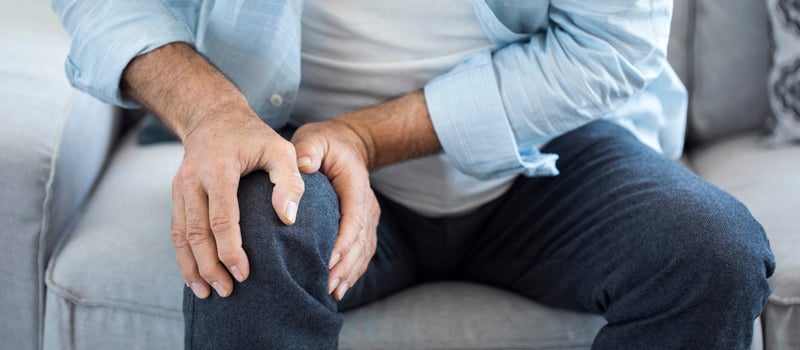 The most common cause of disease and degradation of the knee joint is osteoarthritis. When the disease of the knee reaches a point of debilitation, the best course of action is often to remove the joint and replace it with an artificial prosthesis. Modern artificial knee joints are composed of robust, lightweight polymers and metal alloys. For most people, knee replacement surgery leads to a significant improvement in comfort and mobility.
But many patients will want to weigh the benefits of total knee replacement and have questions about the procedure.
Are Knee Replacement Surgeries Permanent?
Yes, total or partial knee replacement surgeries are both permanent procedures. But the answer to this question is a little tricky because it depends on what you mean by "permanent." On the one hand, yes, a knee replacement surgery is permanent in that diseased bone and cartilage are forever removed from your body. Your knee replacement is permanent in the sense that your body won't be reverting back to its old state, nor will disease continue to impact the replaced joint, as there is no longer bone or cartilage in place to suffer from osteoarthritis.
However, the joint prosthesis itself may need to be replaced in 15-20 years. The expected longevity of your new joint will depend on the model of the artificial joint, projected wear and tear, and other factors, so you'll want to talk to your surgeon about when and if you may need to plan for further surgeries.
Can You Get a Partial Knee Replacement?
Yes, a partial knee replacement--known as unicompartmental knee arthroplasty, or a uni knee replacement--is a favored approach for patients with localized joint disease or knee pain.
During uni knee replacement surgery, only a portion of the front, inside, or outside portion of the knee is removed and replaced with an implant. The rest of the natural knee joint is left in place.
This makes a partial knee replacement significantly less invasive than its total knee replacement counterpart.
As a result, partial or uni knee replacement presents the following advantages:
A smaller incision is needed to perform the procedure, so scarring will be minimal, especially when compared to a total knee replacement procedure.

Patients experience a faster and less intense recovery and rehabilitation period when compared to more total joint replacement.

Partial knee replacement is performed on an outpatient surgery at an ambulatory surgical center, meaning you won't have to undergo your procedure at a hospital. You will also be able to undergo the vast majority of your recovery from home.

Can I Have Both Knees Replaced at the Same Time?
Yes, you can have both knees replaced at the same time! However, such a procedure--called bilateral knee replacement--does present certain risks and challenges. Total knee replacement surgery is a significant operation on its own. Performing two at once puts more strain on the body--on your heart rate, blood pressure, and so on. Replacing both knees at once will also make your recovery and rehab more challenging. You'll need more help with your mobility, and you'll need to be much more aggressive with your physical therapy.
But there are benefits to this approach. Some patients like the idea of bilateral knee replacement surgery because of the convenience factor: you only have to take time off of work once, schedule a surgery once, and go through rehab once. If you experience chronic knee pain in both of your legs, you may want to talk to your surgeon about replacing both knees at once. In the right ambulatory surgery center setting, you may even be able to undergo your bilateral knee replacement as an outpatient surgery.
Can You Be Too Heavy for Knee Replacement?
No, there's no set limit on a patient's weight for knee replacement surgery. However, it's worth pointing out that your overall weight can have direct impact on the health of your knees and the success of your procedure. This happens in two ways:
A high BMI can put more stress on your knees over time, making them more susceptible to disease. As a result, those with a high BMI may be at higher risk for experiencing pain in the knee, making knee replacement surgery a more likely occurrence.

Higher BMI or obesity can increase the duration and difficulty of your surgical recovery. Some studies of patients who were classified as "morbidly obese" have even found that losing 20 pounds before surgery resulted in a shorter hospital stay after total knee replacement. As a result, overweight patients may be advised by their doctors to lose a little bit of weight before their surgery begins.
You should always consult with your surgeon or your doctor when planning a weight loss regimen, especially when you have any surgery on your calendar.
What is the Cost of Knee Replacement?
The average price of a knee replacement surgery is $57,000--at least, in the United States. But that likely won't be what you actually pay for your knee replacement. That's because there are a wide variety of factors that can influence your actual out-of-pocket expenses: your insurance coverage, your deductible, copays, co-insurance, whether you have outpatient surgery or stay at a hospital, and so on.
Your costs may also vary depending on the location where your surgery will take place (a hospital vs. an ambulatory surgical center, for example), your anesthesia, and the type of knee prosthesis. However, the cost of delaying a knee replacement procedure can sometimes be greater: more doctor's appointments, more pain management, diminished mobility, and more chronic knee pain.
How Long Will Recovery From Surgery Take?
A full recovery from partial or full knee replacement therapy will likely take several months, assuming you experience no setbacks. Most people will be able to perform most routine and daily activities--with, perhaps, some modification--within a space of 4-6 weeks after surgery. During recovery, you'll need help moving around the house and you'll be given a very specific set of instructions to follow from your surgeon.
Once recovery is complete you'll likely notice significantly less pain and discomfort in your knee and begin to enjoy the benefits of knee replacement. Whether that pain diminishes completely or not varies from patient to patient. Additionally, you may experience an improvement in mobility, but the range of motion (and activities) you enjoy could depend very heavily on the success of your rehabilitation and physical therapy.
Is Knee Replacement Surgery Worth It?
For most patients, partial or total knee replacement surgery leads to a significant increase in quality of life. Most patients experience less pain and can more easily perform simple physical activities. When your surgeon is able to perform your procedure as an outpatient surgery in a state-of-the-art surgical center, such as the Iowa City Ambulatory Surgical Center, the physical costs associated with the procedure can be greatly diminished.
See what patients have to say about having surgery at Iowa City ASC.
For the vast majority of patients, surgery in a surgical center means a greater emphasis on the benefits of knee replacement and the results of the procedure. "Pain in my knee" can mean many things, so if you're experiencing this, talk to your surgeon about your options today.